The Harvard Classics: An Anthology of the Greatest Works of World Literature
Starting my journey across a 71-volume behemoth
I recently purchased a set of books too numerous for my own good.
71 volumes, to be exact. "It must have cost you a fortune!" you retort, incredulously. Thankfully–and thanks indeed be to Jeff Bezos, my supreme overlord–it only cost me $2 bucks to get the Kindle version.
Why would I voluntarily do this to myself? Don't I already have enough on my plate? How could I possibly have time to go through all of these? And why this anthology in particular?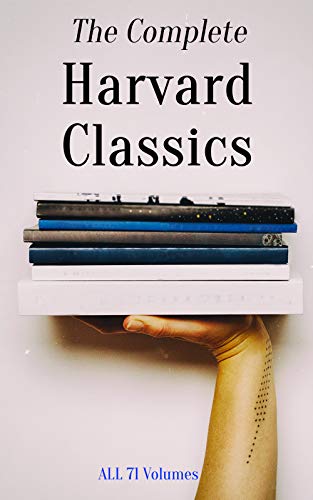 Also known as "Dr. Eliot's Five Foot Shelf," the Harvard Universal Classics are a curated collection of the classic works of literature, though certainly from the European perspective. Originally compiled in 1909 by Harvard's longest lasting president, Charles W. Eliot, these have continued to serve as the foundational blocks of a liberal education.
Though I suspect it might take me a lifetime to get through them all even with much diligence, the joy is in the journey itself, is it not? That's what I repeat to myself at least.
The first book in the first volume is Benjamin Franklin's autobiography. As I check each book off the list, I will write a review of it. I've already created a new section for my Reviews, accessible from the above menu.
Here's a summary of what the volumes contain, copied over (and reformated) from the Wikipedia page:
Volumes 1-10
Vol. 1: Franklin, Woolman, Penn
Vol. 2. Plato, Epictetus, Marcus Aurelius
Vol. 3. Bacon, Milton's Prose, Thos. Browne
Vol. 4. Complete Poems In English, Milton
Vol. 5. Essays And English Traits, Emerson
Vol. 6. Poems And Songs, Burns
Vol. 7. Confessions Of St. Augustine, Imitation Of Christ
Vol. 8. Nine Greek Dramas
Vol. 9. Letters And Treatises Of Cicero And Pliny
Vol. 10. Wealth Of Nations, Adam Smith
Volumes 11-20
Vol. 11. Origin Of Species, Darwin
Vol. 12. Plutarch's Lives
Vol. 13. Aeneid, Virgil
Vol. 14. Don Quixote, Part 1, Cervantes
Vol. 15. Pilgrim's Progress, Donne & Herbert, Bunyan, Walton
Vol. 16. The Thousand And One Nights
Vol. 17. Folklore And Fable, Aesop, Grimm, Andersen
Vol. 18. Modern English Drama
Vol. 19. Faust, Egmont, Etc. Doctor Faustus, Goethe, Marlowe
Vol. 20. The Divine Comedy, Dante
Volumes 21-30
Vol. 21. I Promessi Sposi, Manzoni
Vol. 22. The Odyssey, Homer
Vol. 23. Two Years Before The Mast, Dana
Vol. 24. On The Sublime, French Revolution, Etc., Burke
Vol. 25. Autobiography, Etc., Essays And Addresses, J.S. Mill, T. Carlyle
Vol. 26. Continental Drama
Vol. 27. English Essays: Sidney To Macaulay
Vol. 28. Essays: English And American
Vol. 29. Voyage Of The Beagle, Darwin
Vol. 30. Faraday, Helmholtz, Kelvin, Newcomb, Etc
Volumes 31-39
Vol. 31. Autobiography, Benvenuto Cellini
Vol. 32. Literary And Philosophical Essays
Vol. 33. Voyages And Travels
Vol. 34. French And English Philosophers, Descartes, Voltaire, Rousseau, Hobbes
Vol. 35. Chronicle And Romance, Froissart, Malory, Holinshead
Vol. 36. Machiavelli, More, Luther
Vol. 37. Locke, Berkeley, Hume
Vol. 38. Harvey, Jenner, Lister, Pasteur
Vol. 39. Prefaces And Prologues To Famous Books
Volumes 40-51
Vol. 40. English Poetry 1: Chaucer To Gray
Vol. 41. English Poetry 2: Collins To Fitzgerald
Vol. 42. English Poetry 3: Tennyson To Whitman
Vol. 43. American Historical Documents
Vol. 44. Sacred Writings: Volume I
Vol. 45. Sacred Writings: Volume II
Vol. 46. Elizabethan Drama 1
Vol. 47. Elizabethan Drama 2
Vol. 48. Thoughts And Minor Works, Pascal
Vol. 49. Epic And Saga
Vol. 50. Introduction, Reader's Guide, Indexes
Vol. 51. Compilation of Lectures On Various Topics
---
In addition to the standard 51 volumes above, this Kindle copy also included the "Harvard Classics Shelf of Fiction," comprised of the following 20 volumes:
Vol. 1. The History of Tom Jones, part 1, by Henry Fielding
Vol. 2. The History of Tom Jones, part 2, by Henry Fielding
Vol. 3. LAURENCE STERN, JANE AUSTEN

A Sentimental Journey, by Laurence Sterne
Pride and Prejudice, by Jane Austen

Vol. 4. Guy Mannering, by Sir Walter Scott
Vol. 5. Vanity Fair, part 1, by William Makepeace Thackeray
Vol. 6. Vanity Fair, part 2, by William Makepeace Thackeray
Vol. 7. David Copperfield, part 1, by Charles Dickens
Vol. 8. David Copperfield, part 2, by Charles Dickens
Vol. 9. The Mill on the Floss, by George Eliot
Vol. 10. HAWTHORNE, IRVING, POE, BRET HARTE, MARK TWAIN, HALE

The Scarlet Letter and Rappaccini's Daughter, by Nathaniel Hawthorne
Rip Van Winkle and The Legend of Sleepy Hollow, by Washington Irving
Eleonora, The Fall of the House of Usher, and The Purloined Letter, by Edgar Allan Poe
The Luck of Roaring Camp, The Outcasts of Poker Flat, and The Idyl of Red Gulch, by Francis Bret Harte
Jim Smiley and His Jumping Frog, by Samuel L. Clemens
The Man Without a Country, by Edward Everett Hale

Vol. 11. The Portrait of a Lady, by Henry James
Vol. 12. Notre Dame de Paris, by Victor Marie Hugo
Vol. 13. BALZAC, SAND, DE MUSSET, DAUDET, DE MAUPASSANT

Old Goriot, by Honoré Balzac
The Devil's Pool, by George Sand
The Story of a White Blackbird, by Alfred de Musset
The Siege of Berlin, The Last Class—The Story of a Little Alsatian, The Child Spy, The Game of Billiards, and The Bad Zouave, by Alphonse Daudet
Walter Schnaffs' Adventure and Two Friends, by Guy de Maupassant

Vol. 14. Wilhelm Meister's Apprenticeship, by Johann Wolfgang Goethe
Vol. 15. GOETHE, KELLER, STORM, FONTANE

The Sorrows of Young Werther, by Johann Wolfgang Goethe
The Banner of the Upright Seven, by Gottfried Keller
The Rider on the White Horse, by Theodor Storm
Trials and Tribulations, by Theodor Fontane

Vol. 16. Anna Karenina, part 1, by Leo Tolstoy
Vol. 17. Anna Karenina, part 2, and Ivan the Fool, by Leo Tolstoy
Vol. 18. Crime and Punishment, by Fyodor Dostoevsky
Vol. 19. A House of Gentlefolk and Fathers and Children, by Ivan Turgenev
Vol. 20. VALERA, BJØRNSON, KIELLAND

Pepita Jimenez, by Juan Valera
A Happy Boy, by Bjørnstjerne Bjørnson
Skipper Worse, by Alexander L. Kielland