Watel Solutions
We were all leaders of our campus' African Student Association, and enjoyed working together. We had never put a business plan together, so we thought this competition would give us an opportunity to learn.
A couple months of intense research, networking, and many late night sessions later, we had not only developed a business plan we could be proud of, but we also had a working prototype.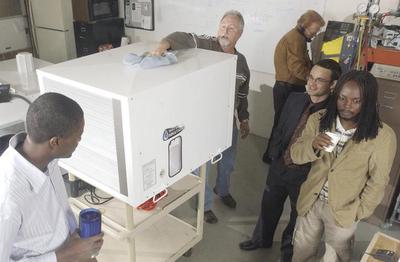 We built a solar-powered atmospheric water generator, a machine that extracts humidity out of the air to create clean potable water.
The goal was to set up shop in Douala, Cameroun, where there is high humidity, lots of sun, but not enough access to clean water.
We ended up winning first place at the Arizona State University competition.
A couple months later, we competed against the best teams from all over the world at UC Berkeley. There, we picked up third place and the People's Choice Award. Later we also won the Edson Entrepreneur Award.
We learned a lot about building a business, manufacturing, forecasting revenues and expenditures, and got better at presenting in front of judges after each round. It was a fun ride.